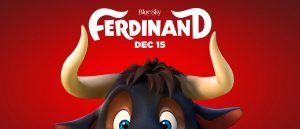 Ferdinand Soundtrack: The graphics animated film depicts the life of a Spanish fighting bull who hates this job. He likes smelling flowers and is quite different in nature from other bulls. His mission is to break free and reach his family.
The soundtrack from Ferdinand, a 2017 Movie, tracklist, listen to some of the 1 soundtrack songs and play OST music. View who sings all the songs
Ferdinand Soundtrack Track Listing
1 Nick Jonas – Home
2 Juanes – Lay Your Head On Me
3 Nick Jonas – Watch Me
4 Pitbull – Freedom
5 Los Del Rio – Macarena
6 Nick Jonas – Home (Film Version)
Additional film music – songs that are not included in the official soundtrack list,
but are playing in the movie.
1. Life Is a Highway – Chris LeDoux
2. Brick House – The Commodores
3. Gonna Make You Sweat (Everybody Dance Now) – C+C Music Factory
4. Hot Hot Hot – Buster Poindexter & His Banshees of Blue
5. Machine Gun – The Commodores
6. Espana Cani – John Altman
7. I Know You Want Me (Calle Ocho) [More English Radio Edit] – Pitbull
8. Thunder and Lighting Polka, Op. 324 – Queensland Symphony Orchestra & Vlad
9. The Messiah, HWV 56: Hallelujah Chorus – London Philharmonic Orchestra, David Parry & London Philharmonic Choir
For those of you who like this Soundtrack, is available To Download From Amazon Or iTunes.