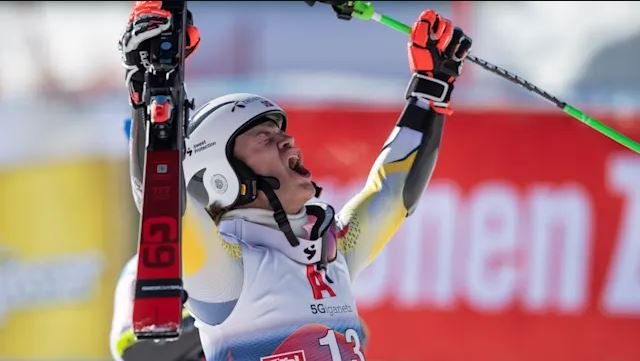 The announcement of Lucas Braathen's unexpected retirement at the young age of 23 by Norway's World Cup slalom champion shocked and confused the alpine skiing community. In an emotional press conference held in the Austrian resort of Soelden, just on the brink of a new Alpine ski season, Braathen revealed his unexpected decision, expressing a sense of liberation he hadn't felt in years.
A Surprise Announcement
"I retire. I told my teammates yesterday," Braathen disclosed to the reporters. The announcement sent ripples of astonishment throughout the skiing community. After clinching victory in five World Cup races, Braathen's decision to step away from the sport left fans, fellow athletes, and experts stunned. "I'm done," he added with a sense of finality. "I am a person that has always followed my dreams and what makes me the happiest … for the first time in at least half a year, I'm happy after making this decision. For the first time in years, I feel free."
A Complete Surprise
The Norwegian Alpine sports director, Claus Johan Ryste, also expressed his astonishment, branding Braathen's retirement as "a complete surprise." In the days leading up to the announcement, there had been whispers of a dispute between the skier and the Norwegian federation, particularly regarding image rights. Ryste shared, "I received word of Lucas's decision just before the press conference began, and this came as a complete surprise to both me and the rest of the support team."
An Uncertain Future
As Braathen takes his leave from competitive skiing, he seems uncertain about what the future holds. "I'm going to go on my little journey on my own now, to try to find out what my next journey is, and I'm so excited about that," he said. In a simple yet heartfelt Instagram post, he expressed his gratitude with the words "thank you."
A Farewell to a Vibrant Personality
With Braathen's unexpected retirement, the skiing world loses one of its most vibrant and charismatic personalities. Known for his distinctive style, Braathen, the son of a Norwegian father and Brazilian mother, was celebrated for his unique approach to the sport. He wasn't just a champion on the slopes; he had a penchant for painting his fingernails, a flair for fashion, and even dabbled in jewelry design. His departure leaves a void in the sport's tapestry that will be challenging to fill.
Looking Back at a Stellar Career
Braathen's departure marks the end of a remarkable career that saw him achieve extraordinary success in a short span. In October 2020, he won his first World Cup race in the Soelden resort. The following year, he earned his first championship in the slalom division. In his five seasons on the circuit, Braathen finished in the top three twelve times and won five World Cup races.
The Effects of a Lease
All Norwegian World Cup skiers are forced to sign a contract with the national federation, which had a considerable influence on Braathen's aspirations to "transcend the sport".This contract regulates their individual marketing and sponsorship rights, and it appears that this contractual obligation played a role in his decision to retire.
Let's sum up the whole shocking event,the sudden retirement of Lucas Braathen, a prodigious talent in alpine skiing, has sent shockwaves through the skiing world. His heartfelt declaration that he feels "free" after making this life-altering decision reflects the complex dynamics that can exist between athletes, their dreams, and the obligations they have to their national federations. As we bid farewell to one of skiing's most vibrant personalities, we are left to ponder the twists and turns of a career cut short and the mysteries of what lies ahead for this young champion in his newfound freedom.