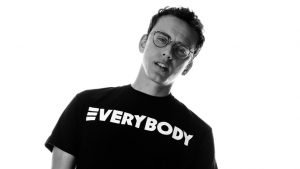 Rapper Logic is known for his hit song "1-800-273-8255" and is a mainstay in the hip-hop world, so why is the rapper calling out two of pop's biggest stars in his newest song?
While Logic has kept things on the serious side for his most recent performances, the Maryland rapper is back in his lyricist bag for his new track "44 More." The record is a followup to his "44 Bars" song from the 2016 mixtape, Bobby Tarantino, which sees the artist spitting some more intense rhymes.
Quoted Verse
I'm back again to snap again and goddamnit, it ain't no other way around it
Yeah, it's happenin' 'cause I've been livin' in a world on my own
Leave me alone, I'm in the zone where I've been prone to destroy shit
You cannot avoid this, whack mothafuckas have annoyed this
Yes, you know I enjoy this
Preach, mothafuckin' preach
For those who like the beat , here we have it ready for you. Listen Or download Logic 44 More instrumental from here! Enjoy!!!.

DOWNLOAD Logic – 44 More (Instrumental)
(Courtesy of Fx Beatz)
You Can Follow Us on Twitter or Like Our Facebook to Keep Yourself Updated on All the Latest From Hip Hop Beats, Ringtones, Type Beats and Karaoke.