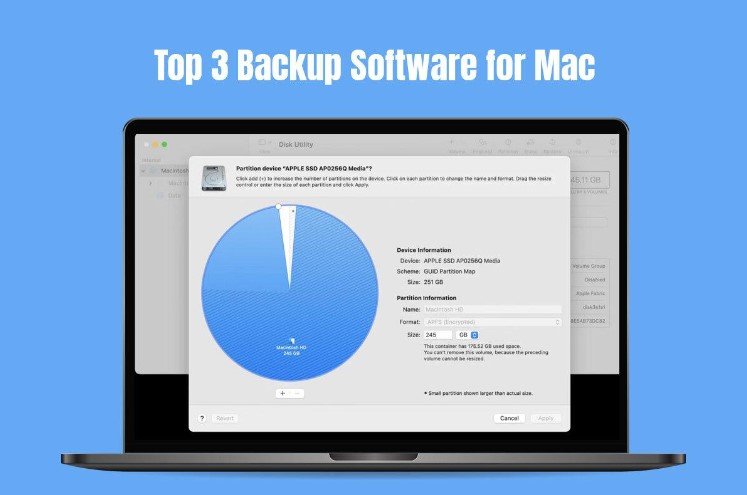 Are you a proud Mac user? You already know the importance of backing up your computer. Backing up is critical to the protection of your valuable data against unforeseen conditions, such as hardware failures, system crashes, and accidental deletions. Although Apple offers built-in backup solutions, they have basic capabilities. Hence, you may want to explore third-party programs to access more comprehensive features in securing your data. 
What are the Different Ways to Backup your Mac?
If you are on a mission to find the best way to backup MacBook, you must consider the different options available at your disposal. 
Time Machine

: This is Apple's native backup solution, allowing users to safely back up their data in an external drive. Simply connect an external drive to your computer via USB and navigate to System Settings > click General > Time Machine. Follow the on-screen prompts to start the backup process. 

iCloud

– If you want to access your data from anywhere, backing up to iCloud is a better option. This is Apple's cloud storage service that safely stores your data on Apple's servers. You can sync iCloud Drive across your Apple devices. 

Bootable backup

–

Bootable backup is creating a complete backup of your computer containing the macOS installer file

. You can create one by opening Disk Utility > connecting an external drive and partitioning the drive > downloading the macOS installer by opening Terminal and entering software update –fetch-full-installer > placing the installer in one part of the backup volume > backing up your Mac in another part of the external drive. 
Besides these in-built, native macOS backup solutions, you can consider third-party backup software with diverse features like customization options, incremental backups, and cloud-based storage. Integrating third-party backup solutions into your backup strategy will augment flexibility, data security, and accessibility while tailoring the backup process to cater to your specific needs. 
Remember, selecting the right backup software depends on the amount of data you need to back up, your preferences, and the level of control you desire. With that said, let's look at the popular backup software for Mac. 
Top Backup Software for Mac
Strengths 
Weaknesses

 

User-friendly, visually appealing interface 

It costs money to recover backed up data from a disk image 

The basic backup features are free 

Slow to scan large drives

Offers a preview feature so users can see the files that can be recovered before they purchase the software 
Disk Drill is a reliable data recovery software that provides a free backup tool called Byte-to-byte backup. This utility is capable of copying every bit of a user's disk into an image file. Thanks to this tool, you can back up even the smallest KB worth of data. 
The graphical user interface of Disk Drill is easy to use and visually appealing. Any user at any level can jump into using the backup software. The program offers excellent support for the macOS ecosystem and is able to recognize more than 400 file signatures, including the common Mac file types. Also, the software is compatible with APFS and HFS+ file systems. 
Backblaze

 
Strengths

 

Weaknesses

 

Encrypts the backup files 

The deleted items are retained for thirty days by default. An extra charge is levied to retain the deleted items for an extended period. 

Offers unlimited cloud storage 

The website response can be slow

Simple installation and lightweight performance 

Easy-to-use interface 
Backblaze offers unlimited cloud storage with no bandwidth speed limits or file size limitations. By default, the software backs up all the files on a Mac computer, and there's no need to configure the tool to safeguard your data. The tool can be used alongside Time Machine for added data protection. Hence, you can create a local and cloud backup version of your essential folders and files. 
The software can be used to clone a disk. The best part of this software is that it uses less than 1% of memory and CPU on average. 
Strengths

 

Weaknesses

 

Total control over Mac backups 

Doesn't offer any help in removing system junk 

Creates bootable backup drives for use on other Mac computers

Automatic file syncing and system cloning 

Backups are compressed to reduce the overall file size 
Get Backup Pro can be downloaded from their official website, and you can start backing up your computer immediately. The tool provides users with the latest backup features, allowing users to create archives, backups, clone disks, and sync folders on the Mac computer. The software can also perform incremental or full backups to save storage space. Besides, space is saved by compressing the backed up files. 
The tool allows users to encrypt their data so it is kept safe against unauthorized access. The encryption protocols available are Blowfish, AES-256, AES-128, and so on. 
So, you still haven't found what you are looking for? Some more alternatives worth checking out are:
Dropbox, Google One and Microsoft OneDrive if you are seeking cloud storage solutions. 

Third-party tools to consider are SuperDuper!, Acronis Cyber Protect Home Office, Clonezilla, Carbon Copy Cloner, etc.